Home, Welcome, and How to Donate | Board, Mission, By-laws, and Facts |
Bagishu People, Photo Slideshows | Membership, Volunteer Corner, Contact Us |
Events, Newsletter | Counting our Blessings

What is Global African Village?
Global African Village is a nonprofit organization working to alleviate the abject poverty that affects thousands of children, the elderly, and the sick every day. Our primary focus is assisting the Bagishu people of eastern Uganda (see Fact Sheet) through these four projects: child care and education, health care, infrastructure improvement, and small-business development.
Global African Village is a 501(c)(3) nonprofit in the US, incorporated as a nonprofit in New York State, and a registered charity in Ontario, Canada (# 17 46 06 1).
We are an all-volunteer organization. With no paid staff and no office, our operating expenses are very minimal. In 2012, only 3.9% of the funds we raised were used for expenses; the remaining 95.1% supported our humanitarian work in Uganda. We are very proud of our careful use of your donations.
We can be reached at globalafricanvillage@gmail.com.
- Global African Village is running a Coin Drive for Education. Can you spare some change to educate rural Ugandan students? Donating loose change can help an orphan remain in school or help a high school student pay modest room and board in Mbale, Uganda (the closest city) to eliminate daily walks from their rural homes. Every day, teens must walk 10 km one way to high school, so they lose valuable study time. Some become discouraged and leave school. We invite individuals, groups, and businesses to collect spare change for our Coin Drive for Education. Collection containers in Buffalo, NY, and Toronto, Ontario, are available by contacting globalafricanvillage@gmail.com. Donations in the Buffalo, NY, area will also be accepted in any container (coffee can, piggy bank, etc.). Groups may also convert their change into a check made out to "Global African Village" and mailed to Global African Village, 37 Devereaux Avenue, Buffalo, NY 14214.  Participants will be acknowledged on this website, in our newsletter, and on our Facebook page. Groups and individuals donating over $150 can "adopt" a Ugandan student and follow her/his progress in school.
- Thanks to the Vieux Montreal Rotary Club in Montreal, Quebec, Canada, and the La Cueva Kiwanis Club in Albuquerque, New Mexico, for welcoming Sharon Green to their recent meetings.
- Special thanks to the Unitarian Universalist Church in Amherst, NY, for inviting Sharon Green to speak at ther Feb. 23, 2014, service and for extending such a warm welcome.
- Thank you to Colleen Young, Buffalo State College student, for writing this article in Buffalo State's student newspaper, The Record:  http://www.bscrecord.com/it-takes-a-global-village-local-non-profit-helps-uganda-1.3025036#.UWgBarXvtPM.
- One photo at the top of this page shows Bagishu villagers digging Yetana Fish Pond in early 2011. After they hand-dug this 62' x 25' x 4' pond, your donations enabled us to buy PVC pipe, fish, fish food, and barbed wire to enclose the pond. Fish have been harvested regularly since December 2011 to supplement the diet of many poor villagers.

- We are pleased to announce the Tre-Plac Planting Club, a tree planting project, inaugurated by Board member Maura Fioroni, to create work for Ugandan youth by planting trees to prevent future landslides.  To support this project, several small businesses in Tonawanda, NY, and Toronto, Ontario, are hosting change containers.  These funds help Bagishu youth buy and plant trees to prevent landslides while improving the environment.  Special thanks to the managers of these businesses. We invite additional contributions for this important project.  Do you need a gift for the person who has everything?  Donate as little as $25 toward to support this project.
- Congratulations to Agath Shisa, who graduated from Uganda Christian University in Mbale, Uganda, in July 2012.  The Grand Island, NY, Zonta Club college generously sponsored her education.  Her tuition & fees were just over $500 per semester – quite modest, by North American standards.  Would you or an organization to which you belong like to sponsor another young Ugandan through high school or college? We have profiles of bright young people whose families cannot afford school fees or university tuition.  Help make our tag line "Saving One Life at a Time" a reality.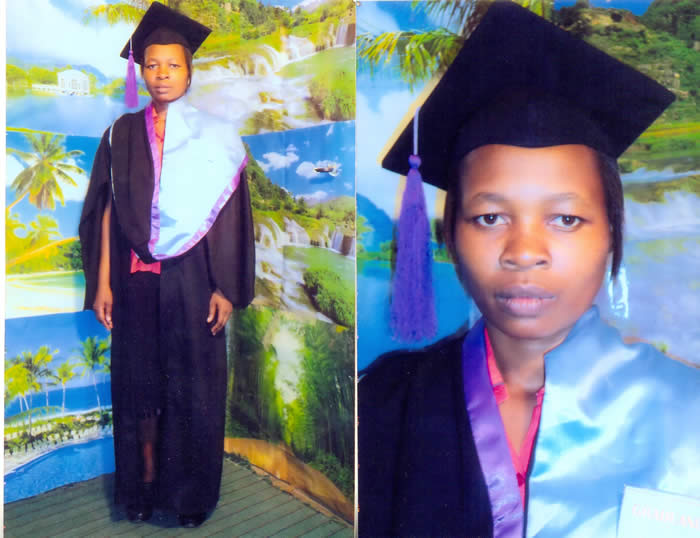 - Thank you to the Zonta Club of Cheektowaga-Lancaster, NY, for donating 50 birthing kits for the Bagishu women who give birth without medical assistance.
- Learn more about Global African Village from this interview with co-founder Sharon Green: http://www.niagara.edu/niagara-reads-video-gallery/.
- Thanks to Milano's Family Restaurant, 529 Englewood Avenue, Kenmore, NY; and Mama Mia's Pizzeria and Cafe, 215 Highland Avenue, Tonawanda, NY, for hosting Global African VIllage change containers.

- We partner with the Enactus (formerly SIFE) chapter at Canisius College, Buffalo, New York. They gave Global African Village a grant to inaugurate our Buusale Kamani project. This a small-business grant program enabled five people in rural Uganda to expand their small businesses. "Buusale Kamani" is Swahili for "Friendship is Strength."
- On March 1, 2010, devastating landslides occurred in the area of Uganda where we are working. At least 300 Bagishu died. Thousands who were displaced are now living in refugee camps, about 60 people to a tent, with poor sanitation, illness, and an uncertain future. To learn more about the landslides, go to http://www.monitor.co.ug/News/National/-/688334/873748/-/wj64nv/-/index.html; to read updates about the landslides and other news from Uganda, you can visit the Daily Monitor web site. Sadly, more landslides occurred in 2011, 2012, and 2013.
- Read the article about Global African Village on pp. 8-9 of the May 2009 newsletter of the New York College Learning Skills Association: http://www.nyclsa.org/newsletter_current_issue.htm
- Global African Village in the news: Read Article in The Buffalo News re. Global African Village August 2008

- You can view and download a copy of our 2010 Annual Report here.
How to Donate
Global African Village welcomes contribution at any time. Remember that the average annual income of the Bagishu people of eastern Uganda is just $40 per year. Even modest donations make a difference in the lives of these hard-working rural people.
Sebastian Wanzama-Piro, Director, may be available to speak to groups in southern Ontario and Western New York. He can be reached at (647) 655-8838.
Contributions can be sent to:
| | | |
| --- | --- | --- |
| Global African Village |   | Global African Village |
| 204 Horsely Hill Drive | or | 37 Devereaux Avenue |
| Toronto, Ontario Canada M1B 1W6 |   | Buffalo, New York 14214 USA |
Please support Global African Village. We are grateful for whatever you can contribute - every dollar helps! (Please note that you do not need a PayPal account to donate using PayPal.)
Because Global African Village has 501(c)(3) status through the IRS, we are eligible to receive public and private grants. Individual donors to Global African Village who itemize on their tax returns may claim federal income tax deductions.
Global African Village is also incorporated as a nonprofit in the State of New York. For legal purposes, our name is Global African Village Incorporated.